HEMPOLA® FARM
Makers of fine hempseed oil, hempseed flour, shelled hempseeds, hempseed protein & fibre powder and food-safe hemp oil wood finish. Contact us for specific product information. Email.
Established in 1995. Canada's first hemp food producer and cannabis pioneer.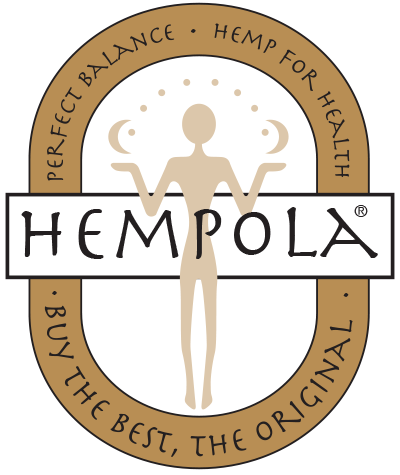 COLD-PRESSED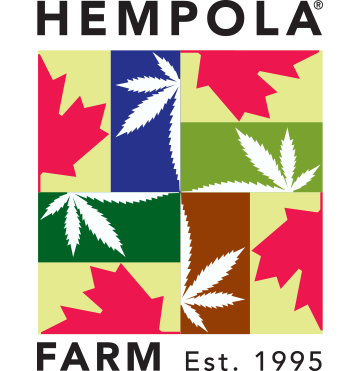 Regarded as nature's most nutritious oil, our cold-pressed hemp seed oil is brought to you straight from our farm. Naturally organic and GMO-free, our hemp is grown without the use of any sprays or pesticides and actually improves the quality of surrounding soil and crops! Hemp contains the perfect balance of the Essential Fatty Acids Omega 3 and 6, contains Omega 9 or oleic acid (a mono-unsaturate) and is jam-packed with more antioxidants, vitamins and amino acids than any other source in the plant kingdom.

WHAT ARE ESSENTIAL FATTY ACIDS (EFAS)?

EFAs are polyunsaturated fats or 'good fats'. The main EFAs are:
Omega 6 or Linoleic Acid (LA), Omega 3 or Alpha Linolenic Acid (ALA), and Gamma Linolenic Acid (GLA). The human body requires these EFAs in proper proportions to help maintain good health and must obtain these EFAs from food or supplements. Due to modern food processing and food consumption trends, today's average diet contains only a fraction of the EFAs which were common in the diets of our nineteenth century counterparts.

WHAT ARE THE HEALTH BENEFITS OF EFAS?

In our bodies, EFAs are converted into prostaglandins. It is well documented that prostaglandins act on all organs in the body. Many researchers have identified these prostaglandin functions and the inherent benefits of proper EFA intake.

The following is a partial list of potential benefits:

reduces the risk of cardiovascular disease by lowering cholesterol and blood pressure
reduces the risk of stroke and blood clots by reducing blood platelet coagulation
reduces the risk of osteoporosis by increasing the absorption of calcium
for diabetics, insulin function is improved
reduces inflammation, osteoarthritis, rheumatoid arthritis, eczema, psoriasis • increases immunity by improving T-cell function
increases energy by increasing oxygen transportation into the cells
improves vitamin and mineral absorption into the cells
improves hair growth and skin moisture

Strong evidence also suggests that people suffering from multiple sclerosis and attention deficit disorder may benefit from properly balanced EFA intake.

Hempola® Farm Hemp Seed Oil also contains the perfect balance of EFAs. Approximately 80% of Hempola® Farm Hemp Seed Oil is polyunsaturated fat or EFAs, the highest available in the plant kingdom. Very important is the ideal 3:1 ratio of Omega 6: Omega 3 EFAs. Hempola® Farm Hemp Seed Oil also contains GLA, from which Omega 6 is naturally converted. No other single-source oil has this ideal combination of essential fatty acids.

DAILY EFA REQUIREMENTS

The exact amount of EFAs required by the human body varies depending on physical activity, stress levels and hormone differences. On average, 1 tablespoon of Hempola® Farm Hemp Seed oil per day will provide the properly proportioned EFA requirements of your body. This is considerably less than that suggested for other oils such as flaxseed (2 to 3 tablespoons per day suggested).

Use Hempola® Farm Hemp Seed oil as a dip with bread, or as a flavour enhancer in pasta, salads, grilled fish, sauces, marinades and more!

HOW TO ORDER

Hempola® Farm Hemp Seed oil can be purchased directly from our farm store.
You can either come to the store in person at 2133 Forbes Road in Springwater, Ontario or call 705.730.0405, or email us to place your order. Shipping is extra. At this time, Hempola® Farm only ships within Canada.

This product comes prepackaged in four different sizes. Prices do not include HST.

Please contactus us by email for current prices

CANADIAN GROWN

For over 20 years, the Hempola® Farm family has been defined as pioneers in the hemp industry. Following the lift in prohibition, we grew our first history-making hemp harvest on Canadian soil. Our methods of hemp processing are now the industry standard and we continue to take a unique and innovative approach to each and every harvest.

As the first hemp food brand in Canada, Hempola® Farm is proud to maintain longstanding relationships with key farm producers across Ontario. These relationships have given us access to local hemp crops that yield optimal nutritional profiles for our oils, powders and shelled seed products.

Our food and wood products are fresh, all-natural and made with enthusiasm and passion for this incredible plant. Discover the benefits of nature's original superfood. Discover Hempola® Farm.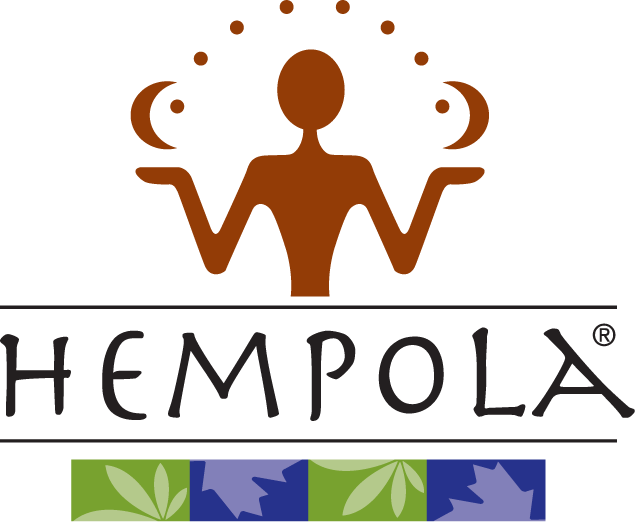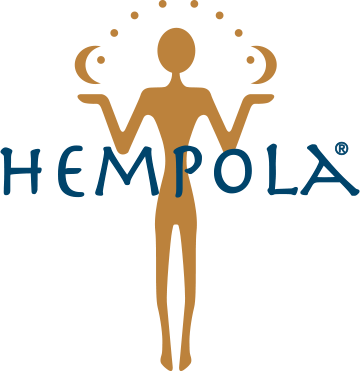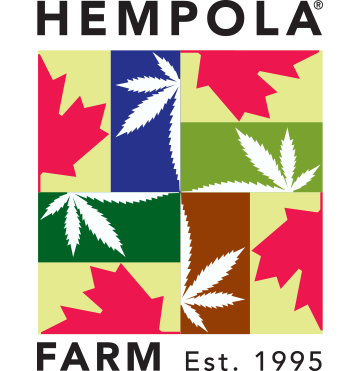 HEMPOLA FARM
2133 Forbes Road
Springwater, ON
L9X 1Y1